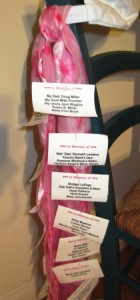 Training is probably not an accurate description.
One of the many blessings from the 3-Day Walk for the Cure is my regular 5-6 mile walks.
But, with slightly over 90 days until my 9th Walk, I consider myself in training mode. And this summer has been particularly challenging.
Channeling Ratso Rizzo
Walking in Boise instead of San Diego (where I lived for 20+ years) is definitely different.
There are more four-legged cheerleaders along the route
The summer heat is a schedule-breaker
There is a lot less traffic
You would think that last point makes for a walk in the park environment.
For the most part, that's true. But, I still find myself channeling Ratso Rizzo.
"Hey, I'm walking here."
I'm not sure if it's so unexpected to find someone walking along that route, but I have been almost hit – twice – in the middle of the same crosswalk.
I know what you're thinking. Find a different route.
It's less about the route and more about the cell phones plastered to the drivers' ears. Hmm, maybe Boise isn't so different from San Diego.
If the Heat Doesn't Kill You
Remember that line in Butch Cassidy and the Sundance Kid? (must be movie day)
Sundance and Butch are preparing to leap from a high cliff into a river
Sundance says: I can't swim
Butch replies: Are you crazy? The fall will probably kill you.
That pretty much sums up this summer.
Triple-digit heat has me scurrying for cooler times of the day
I've considered a miner's hat with a light for 4 A.M. walks
Then multiple fires suffocated the air in the Boise valley
The air quality has me yelling, "Uncle." With a history of asthma, the polluted air knocks me out.
The good news is I was back on the route yesterday.
Tick-Tock
I cannot believe there's only 90 days (okay, 92) until I meet up with my Fight Like A Girl teammates for another 3-Day Walk for the Cure.
I return to my beloved San Diego and 3 days, 60 miles of hills and ocean walks. Walk on!
There's a new rule this year.
We have to raise the minimum before we can check in
We used to have a month after the Walk to hit the $2,300 minimum
So far, I've raised $1,551
That leaves $749 – about $8/day. If you can donate any amount, I would be very grateful.
Keep the old lady walking. Click on the sidebar or go directly to my Personal Page.
If you are unable to contribute, think blister-free thoughts for me
If you would like me to wear a loved one's name on the Walk (as shown in picture), let me know in Comments
Feel free to share this post for all those battling cancer and for those we lost
Thank you for listening about the travail and trivial events for training.
And a huge thank you to my Contributors – you rock!
Anne Wayman
Bruce Cutting
Cathy Miller
Fortech Products, Inc.
Harriet Rotter Bell
Jacqui Murray
Julie Ewert
Kim A Lemon
Laura Wiggins
Linda Barney
Linda Barney
Lori Widmer
Marsha Lindbeck
Nicola Parry
Rachel Marturello
Rita A. Wiggins
SFG Benefit Insurance SVC
Sharon Hurley Hall
=================
Live…Laugh…Love