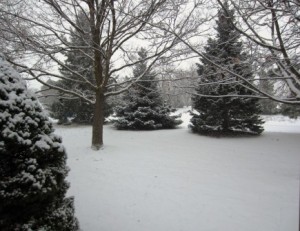 Mark Twain said there are only two certainties in life – death and taxes.
I think there's one more.
There's no such thing as an accurate weather forecast.
The above picture is a shot of the view outside my office window – the day it was supposed to be sunny and 50 degrees.
Despite all our technological advances
And more gizmos then you can shake a stick at
Weathermen still get it wrong
Mother Nature gets it right every time. Just think about the life lessons she's delivered.
Life Lesson #1 – Experts are not always right.
We define experts in many ways.
A person with education degrees galore
A person whose monetary worth is a number with a gazillion zeroes after it
A blogger with a million followers
Huh.
Experts are not right all the time
They could be the weathermen of their world
Imagine if Noah and the animals listened to all those people asking –
What rain?
Follow your instincts and build the dang ark.
Life Lesson #2 – It takes a lot of snowflakes to build a snowman.
If snowflakes are our experiences in life, most of us have accumulated plenty to build our snowman.
And since no two snowflakes are alike, your snowman is different from mine – even if they look similar.
Embrace your snowflakes
Tomorrow may bring the sun
Gather your unique experiences and build a better life. 
Life Lesson #3 – You can't have rainbows without rain.
That is a well-known saying in Hawaii. I have vacationed in Maui for almost 20 years and love the culture.
No matter what Mother Nature or life throws at you – there are always rainbow
Rainbows are a marriage of the sun and rain that deliver hope
Your storms make you stronger and bring color to your life.
Okay – metaphors and philosophizing over (all that from a simple snowstorm).
I leave you with the beautiful voice and music that was Iz – Mahalo.
=================
Live…Laugh…Love