What a fabulous 2012 San Diego 3-Day Walk for the Cure!
No blisters, no injuries*
Outstanding San Diego weather
And $6 million raised for breast cancer research
* no injuries during the Walk – just bruises from Spa Day – my masseuse left bruises – seriously
Thank you to all of my contributors who made this another stupendous event.
My Fight Like A Girl teammates and I are already signed up for 2013 – our 10th anniversary.
I created the slideshow video to share some of the fun.
Pink Teammate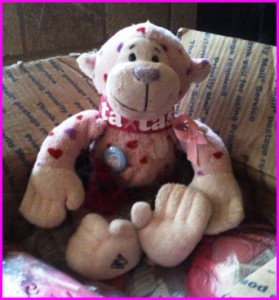 You are going to see a new teammate featured throughout the pictures.
Her name is Curei Osity.
She is a pink monkey
Our team hosted Curei on the Walk
Curei did all 14 3-Day Walks for the Cure
She was shipped from city-to-city
Please don't tell her owner that on Day 1, I dropped Curei. I totally freaked when I looked down and she was gone.
All I could think was she had been shipped around the country, participated in 13 Walks and I lose her on her last Walk!
Fortunately, I turned around and a fellow walker had her. After that, Curei was securely strapped in with a pink scarf around her waist and attached to my water bottle holder.
Oy – the drama!
You can friend Curei Osity on Facebook to see all her photos from her nationwide tour for the Cure.
Why We Walk
=================
Live…Laugh…Love