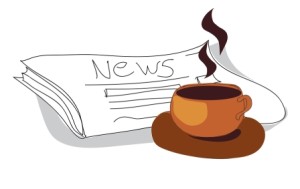 One of my favorite days had always been Sunday mornings.
Waking up knowing there was no work
Just me, my coffee, and the Sunday paper
Ah, heaven
When I lived in California, I went to church on Saturday evenings. Chores were done on Saturday as well. All done so I would have that magic moment.
Sunday silence.
But, that's changed. The silence shattered and I want it back.
Spoiled No More
A few years ago, after my dad died, I moved in with my Mom in Boise, Idaho.
No, that's not what shattered my Sunday silence. Although there were obviously some changes, I still had my Sunday mornings.
We go to 8:30 Mass on Sunday, but since I am usually up by 6 A.M., I still had the time for my coffee and newspaper.
Or so I thought.
About a year ago, we got a new paper carrier. It is the rare exception when the paper is delivered by the promised time.
Many a Sunday we go to church just as the paper is being delivered – a good hour late.
No amount of complaining has changed the situation. It's funny how the simple routines bring such comfort. And how simple it is to disrupt that comfort.
Gone are the days of being spoiled by paper carriers who delivered hours before the deadline. I tipped them well in appreciation, not knowing how truly thankful I would become for their service.
Sunday Sales
If my late paper were not enough to rock my quest for bliss, Sunday sales noise entered my world.
The nasty trend invades my smartphone with marketers who don't know how to shut it down for the weekend.
Email warnings of my very LAST chance to save $$$
How does my spending $$$ on your product save me $$$?
No matter how BIG a sale, I'd still be spending $$$
So, stop SHOUTING at me during my Sunday silence.
I know what you're thinking. Shut off your phone. And in the morning, I do.
Why should I have to turn my phone off all day Sunday?
Just so I don't get your intrusive Sunday shots.
I am sure some marketing guru somewhere told EVERYONE, the best time to send your email marketings is Sunday to ALL those unsuspecting smartphones.
You trigger your message for delivery
Then boldly trot off for your Sunday fun
I don't care what the guru says. I don't like it. And I'm beginning not to like you.
Sunday and Stressed
Aw, look at that. You not only shattered my Sunday silence, you have me returning the favor to all my innocent readers.
Sorry readers. I am in search of Zen.
All I need is an on-time Sunday paper and an empty Inbox until Monday morning.
Is that too much to ask?
=================
Live…Laugh…Love