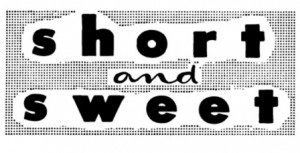 Business writers have a bad habit of putting off their creative writing. At least this business writer does.
If you follow me at all, you know my love of the site, Creative Copy Challenge (CCC).
CCC is a word prompt site designed to smash writer's block. It posts on Mondays and Thursdays.
There is a list of 10 random words or phrases
The challenge is creating a cohesive, creative short story using the words/phrases
CCC welcomes professional and non-professional writers alike
It has been an intensely busy summer and I have been M.I.A. at CCC. I've missed the community and the challenges.
Here are two recent challenges – a couple of short and sweet ones. The words in bold are the challenge words.
Challenge #268
We create a hero from a score found in a little box. Our ticket to success has an eye on speed and power. We pour out emotions on the shadow of a chance that life will change and time will stop and watch.
Challenge # 269
If I but split the lace of a tethered life, will the tender sound of peace ooze through the chambers of my heart in liquid relief? The path to tension is lined with the tears of hurt, leaving the whole flooded in pain. Do I miss the signs along the way or take the road where the new crop of hope is grown?
Check out CCC. You won't be sorry you did. Tell blog owner, Shane Arthur, I sent you.
=================
Live…Laugh…Love