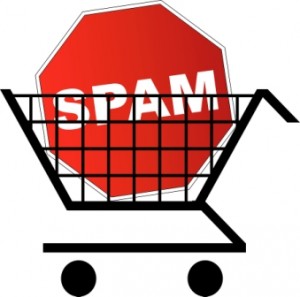 Google professes the tracking of your online activity is so you receive information tailored to your interests.
I find that amusing when I am writing a book about murder.
If you own a blog, you have even easier access to online shopping – your spam folder.
Spam Shopping
Spammers are the new online shopping experience.
Click on your spam folder
Find links to a world of goods
All without having to Google a thing.
Don't believe me?
Let's do a little Windows shopping from my blogs' spam folders.
Clothing galore – Ugg boots, NFL tailor-made jerseys, leather pumps & purses, replica Louis Vuitton bags
Home decorating – Plants, fish tanks, carpeting
Technology help – Search engine optimization (SEO) services, Microsoft Office products, free apps
Entertainment – Casino bonuses, discount movie tickets, music downloads, video downloads
Health care – Drugs, drugs and more drugs – Prednisone, Plavix, Valium, and on and on
Insurance – Health insurance, dental insurance, disability insurance, pet insurance
In one easy click, you can be transported to a virtual store of epic proportions.
As an added bonus, you will help fill the coffers of hard-working spammers as their links light up with the musical sounds of small coins clinking wildly with each click.
Reminds me of Peanuts' Lucy.
"Boy, what a sound! How I love to hear that old money plink, that beautiful sound of cold, hard cash. That beautiful, beautiful sound. Nickels, nickels, nickels. That beautiful sound of plinking nickels"   Lucy in A Charlie Brown Christmas 
Now doesn't that brighten your upcoming holiday season?
==================
Live…Laugh…Love