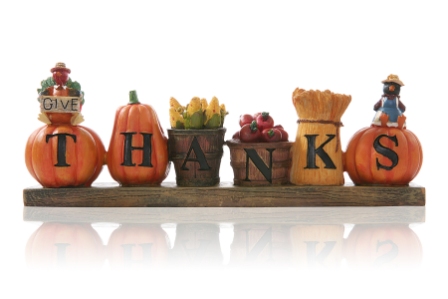 What are you thankful for?
One of the best parts for me about Thanksgiving is reflecting on my blessings.
Coming off such an ugly time in our nation's history, it's healing for me to remember what's most important to me – my family and friends.
As in past years, I borrow this tradition from my good friend and writer buddy, Anne Wayman.
As we celebrate Thanksgiving here in the United States, I share my 2016 Thanksgiving Thanks list.
I am truly blessed.
Thanksgiving Thanks 2016
Health & Family
My mom's health – Mom had a few health challenges in 2016 but with a new pacemaker, this feisty 93-year-old will probably outlive us all.
My health -I still cannot believe I am an owner of a Medicare card. How can that be when I can't be more than 30 or 35? 😉 My annual physical shows all tests are normal and I take pride in keeping my cholesterol and blood pressure in check. Health providers blink every time I say I am on no medication. I can thank freelancing for much of my improved health.
My family – The family is still going strong and I lost count long ago of how many nieces, nephews, and grand nieces and nephews I have. When you start with a base of seven children for my mom, trust me, we are legion. Sadly, we lost my Aunt Rita to cancer this year. One classy lady who loved her family. We love you, Aunt Rita. Is it any wonder why I continue to walk 60 miles in 3 days in the Walk for a Cure. I hate cancer of any kind.
My 3-Day teammates – The San Diego 3-Day Walk has been the weekend before Thanksgiving for the last several years. There is nothing better than being able to see my teammates again and share the Walk, a rented house, and our traditional spa day after the Walk. I may be a writer but words fail me in articulating what these ladies have meant in my life. I love each one and was thrilled to have a new team member, Kellen, join us this year. She is the daughter of one of our breast cancer survivors, Martina, and is simply delightful – just like her mom. Despite nasty 1st year walker blisters, Kellen finished in style. Welcome to our 3-Day family, Kellen!
Kali – My sister and brother-in-law's adorable white miniature schnauzer. Mom and I often have her as a guest and she brings so many smiles and simple joy.
Friends/Followers
My friend, Linda – This longtime friend generously shares her home (and even her car) every year before I do the Walk. Last year Linda was diagnosed with breast cancer. I told her that kind of sharing was completely unnecessary. She is doing great and joined Penny (a teammate/breast cancer survivor) and Penny's daughter, Lauren, (another teammate) in cheering us on this year's Walk. Penny recently broke her foot and was unable to walk. One thing you learn about survivors. They never give up!

My followers – Lest you think I started a new religion, I mean my followers on my blogs and social media. One of the best parts of social media is "meeting" so many great people who share your interests, read your blogs, and laugh at your jokes. Okay, so maybe not all my jokes.
The "unofficial" San Diego 3-Day page – Speaking of social media, I joined this group and have gained so much from all the other participants who share a determined goal to stop cancer in its track. We have laughed, applauded our survivors, and cried over those we lost to this terrible disease. The group continuously lifts my spirit.
My freelance trio – Who needs cubicles to find the support of others who understand what you do? A few years ago, three fellow freelancers and I connected through email and formed the best bond of supportive friends. They make me laugh (a lot!) and inspire me to be a better person and writer. I love you ladies and cherish our friendship.
My lunch with Anne – One of the best perks of returning to my beloved San Diego is my annual luncheon with fellow writer, Anne. Anne inspires me with her passion for making this a better world. We would benefit from a lot more Annes.
Work Stuff
My clients – Freelancing is so much better when you have clients (Duh!) but especially gratifying when they are as great as mine. I have clients from when I first started freelancing 8 years ago. I acquired a new one (who I knew from my past corporate life). And a longtime client returned after a transition year off from being acquired. Life is good.
Plugins/Mobile apps – Thank the Lord for the geniuses who figure out how to make the complex simple. We non-techie types thank you.
At-A-Glance calendar – On the serious side (if I have one) is my go-to calendar. Yes, I have my electronic versions but I still need the comfort of my desktop paper version in its weekly format. We writers are comfort creatures.
Computer glasses – As an *ahem* aging person, I appreciate anything that makes life a little clearer. After my cataract surgery, my up close eyesight went right down the tubes. Switching between computer reading and printed copy was a repetitive motion of pulling reading glasses on and off. Frustrating beyond belief. Then God invented computer glasses that stay on my face and adjust. All is right with the world again.
Simple Pleasures
Warm, fuzzy socks – When the air turns cooler, there is nothing better than the feel of warm, fuzzy socks as I sit at my computer working. Well, maybe warm, fuzzy socks right out of the dryer.
Maxine calendar – I have been a fan of the Maxine character for years. Scary, how much I relate to her crabby musings. For a while, I had a difficult time finding the box-sized calendar. I'm happy to have found a new source. Maxine often makes me laugh out loud.
Colored pens – What is it about a non-black or blue ink that makes me smile? Is it a throwback to my crayon-carrying childhood? I don't know, but I sure do love a collection of multi-colored pens.
Amazon – Say what you will about its CEO, this business knows what the customer wants. Do they mess up from time to time? Sure. But in this age of being surprised when you encounter good customer service, Amazon shows it's more than a catchphrase.
Luggage with wheels – What did we do before this simple invention? I know what I did. I had back surgery for a ruptured disk.
Sports
Notre Dame – I live and die through the success (or lack thereof) of ND sports. The football team is beyond frustrating. The good news is the women's basketball team is #1 and the men's team is undefeated – so far in this very early part of the season. Mom and I are even learning about lacrosse, thanks to a good men's team. Go Irish!
A coach's dream – I coached my younger sister's softball team when she was 10 or 11-years old. I don't remember if it was for three or four years. They were good. They won their division all but one year. Recently, one of her team members (who I had not seen or heard from since that time) sent me the most amazing message on Facebook. It left me in tears. She wrote about the impact I had on her life by encouraging her in sports. I am thankful for social media that connected us. But I am most thankful for a special person who took the time to write. Happy Thanksgiving, Meg.
All sports – I have loved sports all my life. Probably in the genes from my father who played professional baseball until he went off to war. Done right (and I'm not talking skills), sports can teach many life lessons. Just ask Meg.
I wish you and your loved ones a very Happy Thanksgiving. Thank you for joining me in this journey.
=================
Live…Laugh…Love
=================