Previously posted in blog.millercathy.com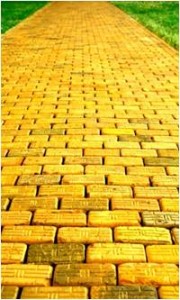 Which Way is West Again?
I know, I know, I promised to update my blog more regularly. Leave it to my good buddy, Linda, to nag me into submission. Okay, so catching up…
Changes, Changes and More Changes
It didn't take long for me to realize how I totally disrupted my Mom's life. She has lived here for over 35 years and here I was complaining about all the "stuff" I accumulated in 6 1/2 years in my last home in San Diego. Everywhere you look are boxes and plastic containers (my Mom is the organized one) with all kinds of Miller memories. My Mom has worked her tail off to clear space for me and my business. She has had several changes since my Dad died and I bring a whole slew of new ones.
I also discovered (like I didn't already know it) where I get the fierce independence and, okay, stubbornness, too. One of the ideas of me moving here was so Mom would not have to do so much on her own. My nephew, Keegan, who if you recall is going to school in Boise, will totally relate to the times I have discovered my Mom struggling with hoses, or heavy objects instead of asking for help. Gee, who does that sound like? And that is a perfect example of another change. Who deals with hoses?
A Day in the Life
Although I have not been here long and there is still MUCH to do, I have developed a new routine. When I wake up in the morning, I get dressed in some shlumpy outfit (so that's not so new!) and open our garage door to take my daily trip down the driveway to where the mailbox and our Idaho Statesman paper box is. I retrieve the paper that is page-to-page coverage of the Boise State Broncos. This city LOVES its college football team!
There are sections devoted to Outdoor life that don't include ocean activity. The ocean activities of San Diego have been replaced by lakes and rivers. And then there's mountains. I found my Mom's trees in the back have grown so much that we no longer can see the mountains from her kitchen window. So the window entertainment has changed from looking at scenic mountain tops to watching squirrels race up and down acorn trees.
I make a pot of coffee with well water from the sink faucet and often am spoiled by a home-cooked breakfast by Mom. I used to always say that when Mom and Dad would go back home after their winter visit to San Diego that it was like going through a divorce. My Mom spoiled me rotten and every winter I would lose my "wife" when she returned to Boise. Well, the marriage is back on!
A Place Called Home
I am determined to look for the beauty of this new city and state because I truly believe there is beauty all around us. I will share what I discover so you can have at least a virtual tour of Idaho. Too often we judge what we don't know and miss what is in our own back yard. I am as guilty of that as anyone. So on to new beginnings. Follow the journey.
Love & Laughter Always