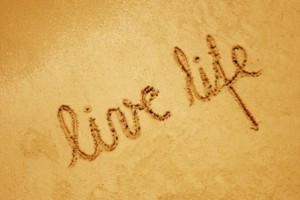 We rationalize life events with the odds stacked on our side.
Most people do this

The majority do that
Chances are, I'm right
When I received the dreaded call-back on the heels of my mammogram, I knew the odds.
Statistics were on my side.
Only 8% to 10% of call-backs require a biopsy

80% of those biopsies will be benign

Sometimes, statistics don't matter.
Cosmic Joke
Although I should know better, I couldn't help viewing this event as God's little joke.
With 2013 being the 10th anniversary of my Fight Like A Girl team's participation in the 3-Day Walk for the Cure, was I going to be the next team member diagnosed with breast cancer?
Turns out – statistics were on my side.
Further tests proved negative.
But, I couldn't help but think how little statistics matter.
To those diagnosed with cancer

To parents of a sick child
To survivors who beat the odds
Statistics are just numbers.
What's in our heart is what matters most.
Live life to its fullest.
=================
Live…Laugh…Love