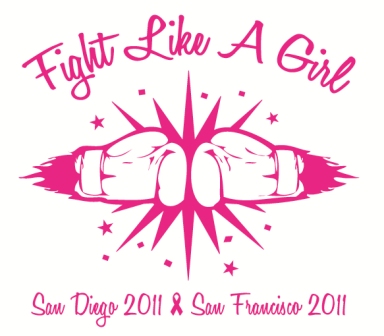 I drafted myself as captain of my team's Susan G. Komen 3-Day Walk for the Cure in San Diego.
Hey, someone has to do it.
It's my 8th year as a participant and I am thrilled to join my Fight Like A Girl teammates once more. This year, some of the ladies are participating in both the San Francisco 3-Day, 60 Mile Walk and the San Diego event.
The San Francisco 3-Day Walk is in September
The San Diego 3-Day Walk is in November
That's 120 Miles in 6 days – just 2 months apart
Are my Fight Like A Girl teammates awesome or what?
Pink Power
The Fight Like A Girl theme is a popular team name, but there is only one F.L.A.G. team as far as I'm concerned.
So, I decided we needed our own logo – not one of the cookie-cutter ones out there.
I contacted Thrive Web Designs, the graphic designer of my business logo. And they did an awesome job.
Pink boxing gloves
One from San Francisco
One from San Diego
Together crushing cancer
I just had to share the results.
I am slightly over half way to raising the minimum $2,300 each walker needs to walk. Thanks to all my contributors!
Walk on!
Thank You Contributors
Aaron Davis
Blue Shield of California – company gift match via Preddis Sullivan
Carol McCaffery
Dianne & Steve Wingfield
Harriet Rotter Bell
Heather Woodruff
Jennifer Mattern
Joe & Elaine Conway
Julie Ewert
Kevin P. Miller
Kim Lemon
Laura Wiggins
Linda Barney
Lori Widmer
Preddis Sullivan
Rachel Marturello
Rita Wiggins
Suzanne Whitlock
If you would like to contribute, click here or on the Donate button in the right sidebar.
Thank you.
=================
Live…Laugh…Love