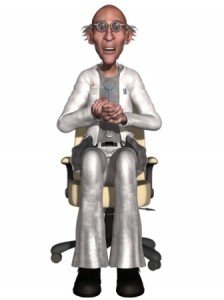 Trust me, my next line is NOT ~
I've got a bad case of loving you.
First, it's horrible grammar
Second, the doctor did not impress
Healthy Impressions
My good health (knock on wood) means I have a limited number of doctor's visits.
Annual physical
Preventive care visits
I was overdue for an eye exam. In my line of work, that is not a good thing.
My problems began right out of the gates.
3 months to get an appointment
1 1/2 hours waiting for the doctor
When the doctor finally did come into the room, he carried on a conversation with someone he was training.
He stood in the doorway, shouting down the hallway
The doctor expressed his obsession with time spent examining patients
Here's a thought. Why not turn around and spend some time with the patient behind you.
Perhaps he felt my vibes
He finally turned around and shook my hand
I already had the tests and my eyes dilated – something that is quite painful for my baby blues.
The assistant advised the doctor that I had been told at my last check-up that I had a cataract.
The condition wasn't to the point where I needed surgery.
I suspected surgery was in my near future
Turns out I was right – sort of
I guess near future has varying interpretations.
Chair Time
The doctor rattled off acronyms and medical jargon to the assistant while zapping me with what felt like Star Wars lightsabers on my dilated pupils.
When I flinched a few times, he chastised me for not keeping my forehead plastered to the suction-cup headrest.
I chastised back ~
Maybe you should try the view from this side.
He then proceeded to tell me why he felt I should have one type of surgery over another (explaining neither – good thing I spent 30+ years in the healthcare industry).
He also told me I should thank him because the other surgery was $4,200 so he was saving me money.
I'll put you in my will.
And it turns out, I need surgery on both eyes – which, I had to clarify with the doctor.
And then out the door he went.
Begging for Time
The assistant told me they were booking a month out.
Since I finally had someone's ear, I shared the following:
I have a $2,000 deductible, which I've met (long story)
It would be nice if both surgeries happened this year
I will be hopping on a plane on November 7th
Taking a little stroll of 60 Miles in 3 Days
And won't be back until November 20th
To which she replied ~
I'd better check with the doctor about that
Maybe if – oh, I don't know – he stayed in the room AND actually spoke to me – I could have saved you the trouble.
Good News – Bad News
The good news – as long as the surgery is three weeks before or after that plane ride, we're good to go.
The bad news – the scheduling nurse has been sick for three days.
And no one else can do the scheduling
And the next appointment is in October
Dangerously close to that three-week restriction
The best I can hope for is going to San Diego for the 3-Day Walk with half my eyes in full functioning order.
If the scheduling nurse doesn't expire. Because NO ONE can schedule the appointment.
Sigh…
Doctor, Doctor – Give Me the News
==================
Live…Laugh…Love
==================