As you might imagine, walking 60 miles in 3 Days takes a toll on the feet.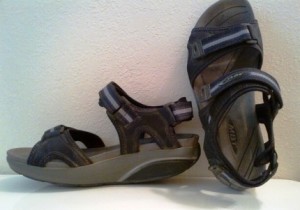 For my first three Walks, I tried every type of shoes and sock combination – but with the same result.
Halfway through the Walk – happy feet
2nd half of the Walk – blisters and more blisters
And a lost toenail or two
In 2006, I discovered MBTs.
Mighty Blessed Toes
MBT is short for Masai Barefoot Technology. It's the funny-looking shoes with the curved bottom, and existed before Skechers Shape=Ups found Kim Kardashian.
I don't know why I let the shoe salesperson talk me into the closed shoes. I went in for the sandals.
The closed shoes eliminated the blisters
I still lost my big toenail – too much pavement pounding
In 2007, I purchased MBT sandals and happy feet were born.
No blisters
No lost toenails
3-Day bliss
So, what did MBT do? They discontinued or changed the model of my shoes.
There is a similar version in a men's style, but I could not find a size small enough to fit my needs. Generally, on the 3-Day, you get shoes a size larger since your feet swell. Too much information?
I tried a different MBT model
It did not give me the support I needed
I was very sad
I tried other walking sandals. I was left moaning ~
♫ I want my MBTs ♫
Hallelujah!
A few weeks ago, I found my MBT sandals in a men's size that would work for me.
I bought two pair.
And they were on sale!
The foot gods are smiling
And I have happy feet once again
3-Day #9 Here I Come
My happy feet are rejoicing as they prepare for my 9th 3-Day Walk.
I have September and October to raise at least $473 to reach the $2,300 minimum we are required to raise.
If you can help in any way, I would be most grateful. You can click on the picture on the sidebar or click here to go to my Personal Fundraising Page.
My feet and I thank you.
Thank You, Contributors!
Thank you to the many who have contributed already. Most are multi-year contributors. Some even donated twice this year.
Thank you, thank you, thank you.
Alan Sakal
Anne Wayman
Bruce Cutting
Harriet Rotter Bell
Heather Woodruff
Jacqui Murray
Joe & Elaine Conway
Julie Ewert
Kim A Lemon
Laura Wiggins
Linda Barney
Lori Widmer
Margie Miller
Marsha Lindbeck
Nicola Parry
Rachel Marturello
Rita Wiggins
Sharon Hurley Hall
Carried over from last year
Fortech Products, Inc.
SFG Benefit Insurance
=================
Live…Laugh…Love