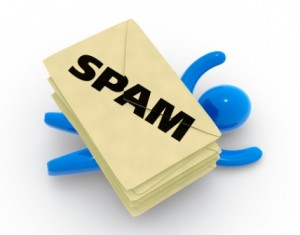 It's what networking is supposed to be all about.
A colleague sends you an email asking if you are still looking for clients and invites you to join his or her business network.
This Pollyanna fell for it line, hook, and sinker.
I clicked on the link
I completed my profile
I imported my LinkedIn connections
Little did Pollyanna know I set off a flood of emails of spammy proportions. Without my knowledge, the networking site, Referral Key, had sent an email – just like the one I received – to ALL of my LinkedIn connections.
Pollyanna was very red-faced.
Damage Control
How did I know the emails were sent?
I had a pretty big clue when my Inbox was instantly hit with 83 (to start) bounce-backs. Apparently, some of my smarter connections' spam filters bounced the annoying email for what it was – spammy.
I sent a LinkedIn message apologizing to all my connections. I assured them I did not have knowledge of the invitations and I also assured them it was not how I work.
Most were very gracious
Some shared their own war stories
One claimed it attached a virus on his computer
I really don't think that last one is true. I tested my own and no one else had a similar problem.
I think he wanted me to feel bad. He succeeded.
What Were They Thinking?
Referral Key promotes its site as one that ~
"lets small business owners easily share leads with trusted business associates."
Yet, right off the bat, they violated my trust.
How is mass emailing considered networking?
If so many filters block it as spam, wouldn't you think they'd get a clue?
Mea Culpa
If you read my business blog, Simply stated business, you know I am a big fan of LinkedIn. I have been from the start of my business.
Nearly 60 percent of my business started in one form or another with LinkedIn
I NEVER mass email my LinkedIn connections
I work hard at developing good business relationships
However, I take full responsibility for the error. 
With my Catholic roots showing~
Mea culpa – Mea culpa – Mea maxima culpa
Translation: Through my fault – through my fault – through my most grievous fault.
There are teeny, tiny boxes you can unclick so the emails don't go out.
I won't blame Boomer eyes (although I'm tempted)
I won't point at my trusting Pollyanna nature (that is still alive & kicking)
I won't blame the LinkedIn contact who sent the email to me (apparently, he's also trusting – and unaware)
My Pollyanna nature is part of what makes me who I am.
But, that doesn't mean the old girl can't learn a thing or two. Next time, I'll Google the site first.
Maybe then I would have found this rant post, Referral Key – Clogging The Arteries Of My Inbox With Spam, about the same subject.
=================
Live…Laugh…Love
=================