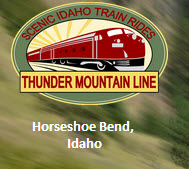 My sister, Terry, niece, Joanna, and grandniece, Sunniva are visiting us in Idaho.
They live in Ohio – not Iowa – not Idaho – Ohio.
They graciously reserved a train ride along the Payette River in Horseshoe Bend, Idaho for all of us and my mom.
The Thunder Mountain Line dates back more than a century. Think gold and ore.
Now you can book a train ride along the Payette River, the site of some of the best whitewater rafting in Idaho. Or so I'm told. Never tried it myself.
Fortunately, for all of us, Joanna booked us in the air-conditioned first class. Somehow triple-digit heat doesn't go well with the open air (and isn't that an oxymoron?) seating.
Idaho Train Adventure
I put together a quick slideshow. It features:
Enjoy.
=================
Live…Laugh…Love
;