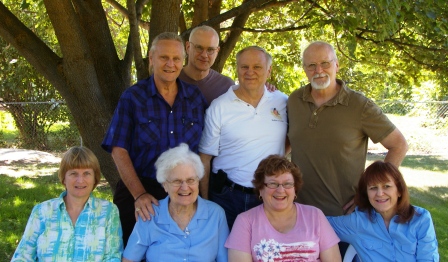 I openly confess I suffer from middle child syndrome.
I take great pride in being the middle child of seven
My family ranking also influences my personality
I wrote about the topic at Tor Constantino's blog, the Daily Retort (enjoy Tor's writing).
One of the ways my pecking order affects me is an overpowering need NOT to follow the crowd.
The Rebel
Typically, I am not an early adopter. I will never camp out overnight to get the latest iPhone (or other new gadget). In fact, I will probably refuse to purchase the item for a very long time simply because everyone else is buying it.
A rebel without a cause?
Understanding that about myself, I found recent events interesting. They caused more Miller Musings.
Conventional Wisdom
I love the start of a new year. Everything feels fresh and possible.
As I developed my business goals, I decided I wanted to add new clients. Duh, right?
The current craze in the business world is content marketing. In essence, content marketing helps build your company's visibility through the delivery of free, relevant information that others find useful. Free white papers, ebooks, infographics or whatever other form of communication you want to use.
I've always appreciated sharing information. I think it's the frustrated teacher in me. My business site has lots of Free Stuff. But, here is where conventional wisdom and I part ways.
Conventional wisdom says deliver that free, relevant information regularly. However, require readers to provide their email address to receive it.
It makes good business sense so you capture leads for your products or services.
Cathy says I hate sharing my email address to download free stuff. Yet how else am I to capture viable leads of potential clients who download my Free Stuff?
I felt conflicted. I asked peers for their thoughts. I bounced various ideas around.
Then the email came.
Speak to Me
Ironically, the email came from a business owner who required my email address before I could download some of her free stuff.
Typically, when I reluctantly turn over my email address, I quickly unsubscribe from the email bombardment that follows.
For some reason, this business owner made it through my Unsubscribe parties.
Her email had the following subject line for her latest blog post.
Stop Copying Everyone Else's Business Model
Her post talks about how you need to zig when everyone else in your industry zags. 
Stop following the crowd.
Yes. Music to my middle child of seven ears.
I decided I am not going to start requiring email addresses to download my Free Stuff. Sure, you can sign up at my business site for updates on new blog posts. And I'll let you know in those updates when there is a new Free Stuff download.
But, if you never want to sign up, that's okay. Drop by anytime.
I hope enough people will share my brilliance and those potential clients will know a good thing when they see it.
Crazy, maybe. At least I am not following the crowd.
The middle child inside is smiling.
=================
Live…Laugh…Love