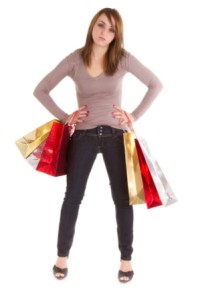 Cyber Monday was a big hit.
What once was confined to Black Friday (the day after Thanksgiving in the U.S) now extends past the weekend into Cyber Monday.
According to IBM's 2012 Holiday Benchmark report, there was a huge leap in the online sales area this year.
Over a 30% increase over 2011 online sales

Strong sales after commuting hours
Mobile online shopping was a whopping 70% higher than 2011
But, how many of those sales actually delivered?
If your experience is anything like mine, 2012 has been a huge case of retailer letdown. That's the retailer letting us down – not the other way around.
This is what I found.
Multiple Choices – Not
One retailer who shall remain nameless due to my love of their spokesperson, Ellen, has been beyond frustrating.
You peruse sweater selections

Multiple selections – multiple colors
Then you make your selection.
Sorry – we don't have that size – or –

It's your unlucky day – out of the 6 different colors to choose from, only the putrid color is available – and did we mention we don't have it in the size you are looking for?
Grr…
Oh, You Wanted it by Christmas?
Another retailer had a similar supply and demand problem as Ellen's retailer – not as bad – or so I thought.
I ordered my gift in November
Plenty of time, right?
On December 10th, I receive a mechanical-sounding voice mail
We're sorry. Your selection is on back-order  It will become available for delivery on January 6th. Thank you for shopping with Don't Ask For Too Much (like on-time delivery)
Then there was the joke of actually trying to get a live, human being at customer service to cancel the order.
Because, silly me, I thought a Christmas present ought to be given, oh I don't know, BEFORE Christmas is over.
The phone tree was sprouting an orchard of canned responses.
Just let me speak to someone who is still breathing and NOT plugged into a wall socket.
Oops
Now, there's a word you never want to see attached to your online order.
But, that's just what I got. I am not kidding.
Apparently, there was a screw-up with my order so wouldn't I love to use the 20% discount coupon they attached to give them another shot at screwing up my order?
I guess if they continue to screw up I could collect enough discounts for a free gift. That has about the same logic.
Ho-Ho-Ho
As I toddle off for liquid retail relief, I wish you pain-free shopping, delivery bliss, and the sanity to make it into the new year in one piece.
=================
Live…Laugh…Love
=================