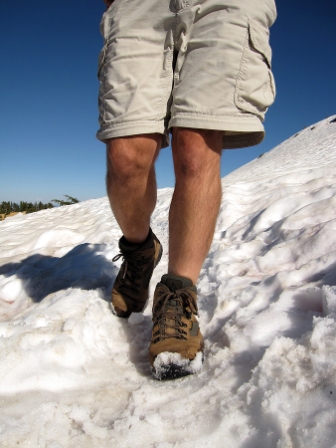 I lived blocks from the Pacific Ocean for over 25 years.
Every winter my friends and I would laugh at the Typical Tourist.
Running along the shore barefoot
Wearing a t-shirt and shorts
Or worse – a bathing suit as they dove into the frigid water
And there we were – dressed like Nanook of the North.
It wasn't until I moved to Idaho at the end of 2009 that I discovered the identity of the Typical Tourist.
They're all from Idaho.
Acclimating? I Don't Think So
On my recent return to San Diego for my 8th 3-Day Walk for the Cure, my teammates chided me for walking without my jacket in the freezing 50 degree weather.
Oh, my Lord – have I become an Idahoan?
Not yet.
The reality is it was too much of a pain to get my jacket back on after the sun slipped behind the clouds.
I had to remove my hat with the long scarf of names I wore on the walk
Slip the water bottle holder over my head
Ask one of my teammates to hold my water bottle and hat
Untie my jacket from around my waist
Slip my windbreaker jacket over my head
Put the water bottle holder back on
Put my hat with the scarf back on
Only to have the sun come out again, making me too warm.
Ah, the sacrifices we make for the Walk for the Cure.
See – not an Idahoan – just lazy.
How, you may ask, do I know the Typical Tourist is from Idaho?
The Proof is in the Frozen Pudding
When I got back from San Diego, the weather took a trip south – and I don't mean to San Diego.
Each morning the thermometer outside our kitchen window was dropping.
The 20s
The teens
Gasp – 10 degrees
Sure, it might creep back up to the low 30s in the afternoon, but I knew I definitely wasn't in San Diego anymore.
Nothing gets by me – keen observer that I am.
But, here's the kicker. I would go out Christmas shopping in the "warm" weather.
And there they were – the Typical Tourist!
Some actually barefoot
Others in t-shirts and shorts
Okay, no bathing suits – but you get the idea
So, there you have it. Scientific evidence.
The Typical Tourists are all from Idaho.
Who knew?
=================
Live…Laugh…Love
=================